Finance Department
The Finance Department's primary responsibility is overseeing the finance-related aspects of the Palmdale Water District. This includes accounts payable, payroll, bank reconciliation, financial reporting (both state and local), auditing, internal controls, and fixed asset allocation.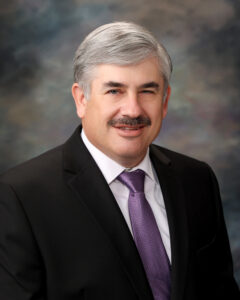 Dennis J. Hoffmeyer
CFO/Finance Manager
Dennis Hoffmeyer was named PWD's Finance Manager/Chief Financial Officer in November 2021 after more than 30 years at the District. He was the Accounting Supervisor for 13 years before the promotion. As the CFO, he oversees a staff of eight who handle accounts payable, purchasing, payroll and customer finance.
When hired in April 1989, he was a drafter and later took on the role of Information System Specialist before becoming a Senior Accountant.
He received his Master of Science in Strategic Finance from Bellevue University and Bachelor of Science in Information Systems with a minor in finance from the University of Phoenix. He also has taken government, nonprofit and federal accounting courses and trainings at the University of California, Riverside Extension.