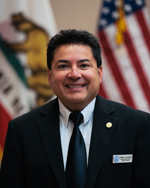 Division 1
Robert E. Alvarado, Director
Email Robert E. Alvarado
Originally from El Salvador, Robert E. Alvarado has lived in the Antelope Valley since 1986, with the last 11 years in Palmdale. He has served in leadership positions at local, regional and state levels. For the past 30 years, he has been educating English-language learners in the Lancaster School District and was its Employee of the Year in 2002. He was first elected to the Board in November 2011. His current term expires in 2020.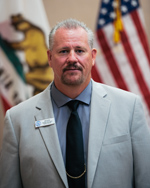 Division 2
Joe Estes, Secretary
Email Joe Estes
Joe Estes, who retired from UPS after 23 years, moved to Palmdale from Burbank in 1988. As a dedicated community leader, he volunteers to help seniors, veterans and youth through AV Youth Build, Pony Baseball, Boy Scouts of America, Lancaster Community Shelter, and A.V. Retirement Manor. He works with the City of Palmdale to create affordable housing for veterans. Estes, whose term will end in 2018, has served on the Board since 2013.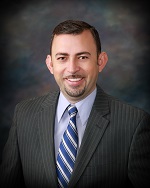 Division 3
Marco Henriquez, Treasurer
Email Marco Henriquez
Marco Henriquez, a Palmdale resident since 2002, is the broker/owner of CENTURY 21 Amigo, a real estate company in Palmdale. He was named the 2014 Broker of the Year by the Greater Antelope Valley Association of Realtors and is a founding member of the Antelope Valley Chapter of the National Association of Hispanic Real Estate Professionals. A former Palmdale Planning Commissioner, he joined the Board after the November 2015 elections. His term ends in 2020.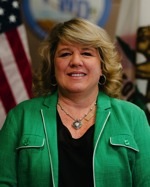 Division 4
Kathy Mac Laren, Vice President
Email Kathy Mac Laren
Kathy Mac Laren moved to Palmdale from North Hollywood in 1989 with a young family and balanced work with her children's activities. She was appointed to the Palmdale Planning Commission in 2007, serving over two terms. She also works in business development for the International Brotherhood of Electrical Workers/National Electrical Contractors Association LMCC. In 2011, she was elected to the Board. Her second term will end in 2020.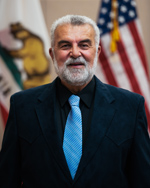 Division 5
Vincent Dino, President
Email Vincent Dino
Vincent Dino, a San Fernando transplant, has lived in Palmdale since 1993. Dino is a retired Journeyman Electrician of 35 years and has served on the Palmdale Planning Commission for eight years, including two terms as chairman. He serves as Sergeant at Arms of the Grandsons of Italy in America Club, which honored him as "Man of the Year" in 2011. He was first elected to the Board in 2013, and his term runs through 2018.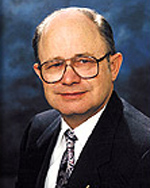 In Memory Of Les Carter (1931 – 2004)
Board Director 1971-2004
Leslie O. Carter was re-elected in 2003 to a four-year term as Director for the Palmdale Water District. He was serving as the acting Board President and had served the District as a Director for thirty-three years at the time of his passing. Mr. Carter brought to the board his years of experience to the District's Personnel, Equipment, and Littlerock Dam Committees. He was a retired ITT Senior Field Services Engineer. In November 2010, the Water Treatment Plant was renamed and dedicated in honor of former longtime Director Leslie O. Carter.